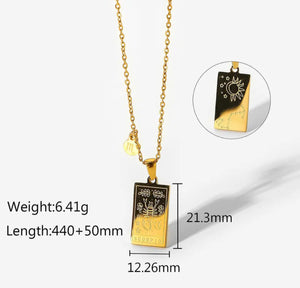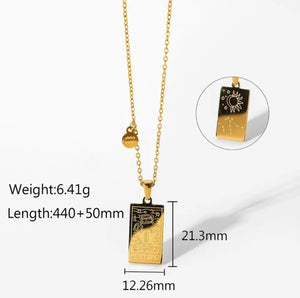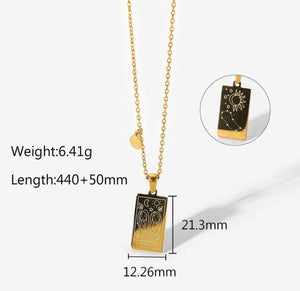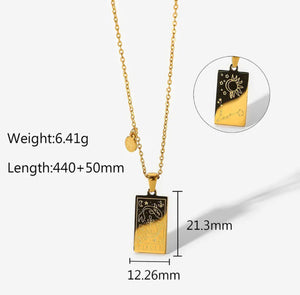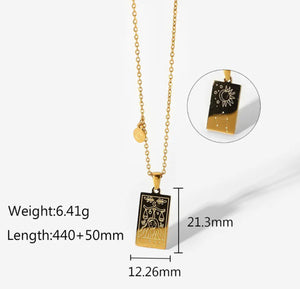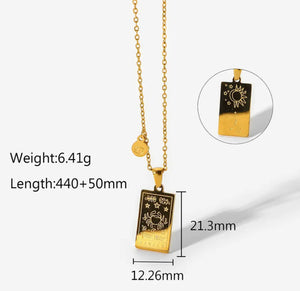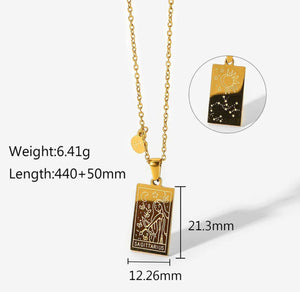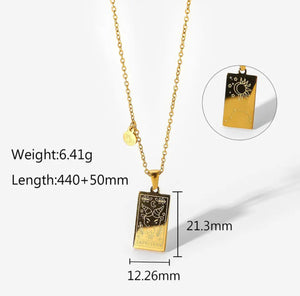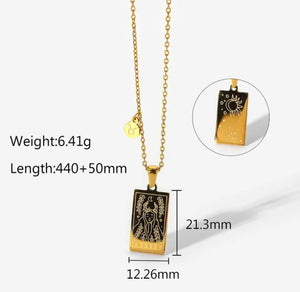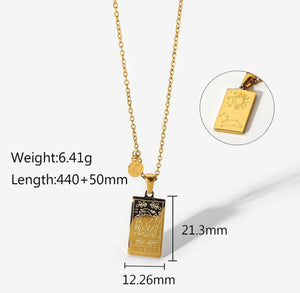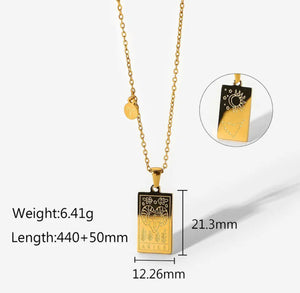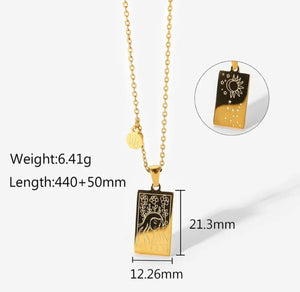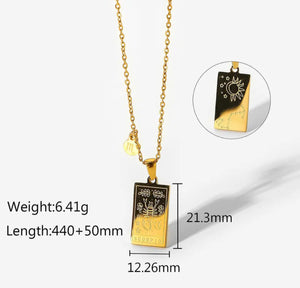 Kane & Co Zodiac Necklace
ARIES Aries are born between March 20 – April 19 and are the element of fire. Aries are driven by a desire to prove themselves and their strength. They naturally take charge and are competitive and ambitious. Aries are spontaneous and courageous. They have a sense of adventure and love to explore. They're determined and bold, and are good at initiating new projects. They have high energy and can initiate quick actions. They can also be impatient, but are naturally active and don't like to waste time. While Aries like competition, they don't like to play games. They are highly self-aware, have strong opinions and are always ready to defend them.
Taurus are born between April 19 – May 20 and are the element of earth. Tauruses have a regal quality about them. They are graceful and diligent laborers. They can be stubborn, bull-headed, and set in their ways, but they are also great listeners and very dependable. Taurus can absolutely go on forever. They never feel fatigued. They are like machines. And no matter what they throw at them, they will inevitably overcome their obstacles because they've already prepared for every contingency. They are the hand-built truck that will never break down. They are the bulletproof vest that never rips.
Gemini are born between May 20 – June 21amd are the element of air. Geminis are very intelligent and pick up knowledge quickly. They are perceptive, analytical, and often very funny. They have an unreserved and childlike curiosity, always asking new questions. Geminis have an uncanny ability to size up a person's character in a matter of seconds, even if they only just met them. If someone's bluffing, they'll be the first to notice. They are great communicators, very responsive and sensitive listeners.
Cancer is born between the June 21 – July 22 and are the element of water. Cancer's self-awareness is like the tides. They're constantly moving in and out of focus. Their personality is layered. They have many moods, some of which are contradictory, but they also have a deep, core self that persists. Cancers are homebodies. They like the comfort of the familiar. They don't like change. They are drawn to stability and routine. They like to know what is expected.
Leo are born between July 22 – August 22 and are the element of fire. Leos are bold, warm, and loving. They are also the ultimate showmen. They can dazzle with the theatrical flair of a Broadway star and the charisma of a politician. They are captivating personalities. They have a way with words, and can speak eloquently on just about any topic, no matter how quickly they've just been introduced to it. Leos inject ambition into everything they do. They are ruled by the heart. They are brash and confident and trust their instincts. Their actions are natural and effortless.
Virgo are born between August 22 – September 22 and are the element of earth. To be happy Virgos need to feel like they're being useful. They feel productive by contributing to something larger than themselves. This is how they derive self-worth. In order to feel like they have value, they need to feel needed. Virgos need a sense of purpose and achievement. They love setting goals and checking things off their to-do lists. What makes them happy is the feeling that they're making an impact, or at least trying to.
Libra are born between September 22 – October 23 and are the element of air. Libras are compassionate and empathetic people. They are willing to go out of their way to help others. They dislike conflict and avoid confrontations. They find beauty in other people's flaws. They want to be seen as the responsible figure who can balance out the turbulent elements around them. They feel an intense amount of guilt and shame when they are unhappy because they know that their unhappiness affects everyone around them.
Scorpio are born between October 23 – November 22 and are the element of water. Scorpios are attracted to what's beyond the surface. They want to be with someone who pushes their boundaries, who brings out their most intense desires and most profound fears. Intrigue. Passion. Lust. The need for completion. A darkly seductive energy. A screen for projection. An enigmatic intensity. The forbidden. The unknown. They have the ability to see past the mask of pretense to the soul of desire, and they look for people who can see and appreciate this part of them. They are into things that are real. They are into people who are not afraid to say what they mean.
Sagittarius are born between November 22 – December 21 and are the element of fire. Sagittarians are incredibly open, and this is what leads them to fall in love so quickly. They don't see the point of caution because they feel they've already run the calculations and determined that the potential for reward outweighs the risk. Sagittarians don't believe in playing it safe. They are always looking for the next great breakthrough, and almost never look back.
Capricorn are born between December 21 – January 20 and are the element of earth. Capricorns admire other people who are self-sufficient, who inspire them in some way. Capricorns are motivated by respect. They are drawn to people who give them the sense that they know something, or who have an exceptional understanding of some arcane corner of the world. Capricorns collect responsibility. And they always seem to take it all on. Capricorns need to be the one to fix everything. Responsibility is their natural state. They have a "can do" attitude.
Aquarius are born between January 19 – February 18 and are the element of Air. Aquarians are attracted to intelligence. Inspiration is a romantic spark for them. Sharing the same sense of humor is the same thing as a connection. Aquarians are addicted to figuring people out. They want to know about you. Not your feelings or your childhood. Not your psychological and emotional makeup, but the facts you know, the interesting experiences you've had, the opinions you've developed.
Pisces are born between February 18 – March 20 and are the element of water. Pisces are loyal, they are always there to listen. Pisces are happiest when submerged in something oceanic. Pisces experience an immeasurable amount of pleasure when they feel like they're being swallowed up by something larger than themselves. They enjoy the immersion of sensory experience: the feeling of sand beneath their toes, the smell of a lover's skin, the music of a summer breeze. They like to feel like they're dissolving.