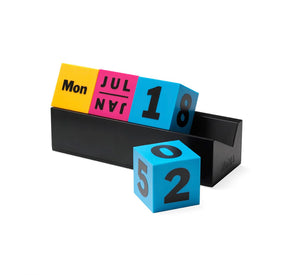 Moma Perpetual Calendar Cubes
The calendar that never ends !
The Perpetual Calendar Cubes consist of coloured polystyrene cubes on a metal tray.
Simply rearrange the cubes on the tray to indicate the day, month and date, and as there is no year indicator the calendar can be used for years on end.
Based on the CMYK colour model traditionally used in digital printing.
Materials
Polystyrene
Dimensions
Size: 5.7cm H x 12cm W x 4.5cm D
Cube: 3.2cm sq.